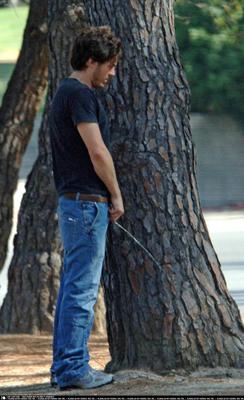 Casey Affleck, pissing on a tree in a park at his birthday party. Gosh, peeing in public is kind of a bad habit, isn't it?
I was pondering bad habits earlier while reading a pop-psych book my mother bought and has been reading voraciously. I always loved psychology, and have seriously considered becoming a psychologist. They say those who enjoy the study of the human mind are the people who agonize the most over their own minds. That's me, for sure.
I guess I just love to ponder the human psyche. Basically, I think that bad habits should never be in vain. For example, if you have to pee on a tree, at least do it because there is no bathroom in sight. Unlike Casey Asslick up there who pees on a tree next to the bathroom door. If you have to use humour in uncomfortable situations, at least be funny, and make it positive and/or self depracating humour so as not to unwittingly hurt others. See where I'm going with this?
So, the whole concept of bettering onesself so as to erase bad habits is great and all, but not entirely realistic. We can only change ourselves so much. Niven, the writer of said pop-psych book, said that our underlying personalities are virtually unchanging past the age of 16. So, unless you erase all of your bad habits by the age of 16, which is completely unlikely, you're kind of stuck working with them instead of fighting them. You can try and try to fight them, but they will eventually emerge. The question is, how can you learn over time to reduce the frequency and damage of your bad habits? One thing I've learned this weekend is never to take onesself too seriously, because it means you will ultimately take others too seriously, and sometimes others just don't deserve to be taken seriously. I know that firsthand! Everyone loves to throw around their opinions, but can they take an actual exposé of how ludicrous/ridiculous/hypocritical their opinions truly are? We can mostly dish it and not take it, basically. Sometimes, you have to let it go, because you can't change anyone but yourself.
Anyway, this weekend started off terribly - please see the taking others too seriously comment - but ended with lessons learned, a little humility, and some jazz. Saturday night was a trip to the Vintage Martini Bar with Emily to see her boyfriend Dave's brother's band play. Phil, Dave's brother, is an excellent musician. I love watching musicians that I know. It makes the music that much more special or something. Not that I know Phil that well, but you know what I mean. But, when it's jazz, it's even better, I've concluded. Jazz is very soothing. Emily and I really like getting dressed up and pretending we're sophistocated to the smooth sounds of it, even better when you can talk over the music and discuss boys.